Sky Bingo Screenshot 1

Sky Bingo Screenshot 2

Sky Bingo Screenshot 3

Sky Bingo Screenshot 4

Sky Bingo Screenshot 5

Sky Bingo Screenshot 6
In our Sky Bingo review we take a look at the brilliant new look at Sky Bingo as well as the fun new features they have added with their redesign. In addition to the updated look and better feel to the site, they have also added a sign up bonus that will excite any player. With just a £5 first deposit, you get a £15 deposit bonus absolutely free!
Playing Sky Bingo & Bonuses
In order to create an account at Sky Bingo, you only need to fill in a couple of small pages with your personal information. Since the bonus does require you to make a deposit, you will need to give them your credit card information at the outset. To complete the registration you need to select a PIN that will be your log-in for the site. An advantage of Sky Bingo is that your account is not only good for bingo, but will also grant you access to the other gaming areas that Sky offers, such as Poker and Sports Betting.
Claim a £20 Free No Deposit Bonus to play Sky Bingo, plus access to the Sky Bingo Newbie room for five consecutive days after you register. To claim your £20 bingo bonus simply open a new Sky Bingo account and your £20 bonus will be credited to your account.
To qualify for the bingo no deposit bonus you must be a new customer of Sky Betting and Games, which means you don't already hold an account on any of their online gaming sites. The Sky Newbie room is packed with great bingo prizes and guaranteed jackpots of £2,500. You can also play Sky bingo on your mobile smartphone or tablet and get access to their games.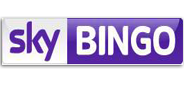 Free £20 Bingo Bonus – No Deposit Required
Sharing over £175,000 in prizes.
Spend £2 a day and get Free scratch card.
Big Brand Name You Can Trust.
Sky Bingo Website
The highlight of our Sky Bingo review is the incredible look and feel of their fully-redesigned homepage and gaming client. One of our reviewer's favourite aspects of the new site is that Sky Bingo has done away with their wicked pink veneer, and made the site look sleeker and less garish. It not only looks great, but is fast and easy to use as well.
Sky Bingo Rooms
There is no drop-off in quality moving from the homepage to the lobby of Sky Bingo, as it appears just as great as the rest of the site. All of the menus are right at your fingertips and easy to use. And if you find yourself at a bit of a loose end while waiting for a game to start, you even have the option of watching one of the various Sky TV channels.
8 different bingo rooms are now on offer at Sky Bingo, and each one was quite well-populated with roomies during our review. In addition to the standard 90-ball and 75-ball games, they also offer an 80-ball bingo game for those who want to try something new. They even have the massively popular Deal or No Deal bingo game, courtesy of Virtue Fusion.
There are tonnes of give-aways at Sky Bingo, and even free bingo games each and every day of the week as a way of boosting your bankroll totally free. Speaking of cheap, Sky seems to have some of the cheapest tickets on any UK bingo site, making that free £15 bonus go a long way. In-between games there are a wide array of different instant scratchies and slot games to give players a chance to make a little extra dosh on the side.
When writing our Sky Bingo review, our reviewer found the roomies to be exceptionally chatty and welcoming, adding the already fun experience of playing at Sky. The chat moderators were fun as well, and we instantly felt like we part of the site.
Wrapping Up
The £20 free no deposit bonus is a good enough reason to sign up for any bingo site, but the experience of playing at the greatly enhance Sky Bingo site will most likely keep you coming back for more long after the bonus is gone.