Giggle Bingo Screenshot 1

Giggle Bingo Screenshot 2

Giggle Bingo Screenshot 3

Giggle Bingo Screenshot 4

Giggle Bingo Screenshot 5

Giggle Bingo Screenshot 6
While offering both a UK bingo site and a Canadian site, our Giggle Bingo review will focus on their British offering. Giggle Bingo is based on Platinum Play Bingo, and both the look of the site and the game play are strikingly similar. This is good for Giggle Bingo, as Platinum Play is one of the top sites out there. And if that isn't enough to convince you to have a go, the £10 free sign-up bonus should do it.
Playing Giggle Bingo & Bonuses
It is incredibly easy to sing up for a bingo account at Giggle Bingo. You just enter your personal information, choose whether you would like to play in pounds sterling or Canadian dollars, and one you are registered you go directly to the bingo lobby. In order to get the free £10 Giggle Bingo sign-up bonus, you have to actually enter one of the bingo rooms first. You don't have to buy a ticket, just enter the room, and within seconds your bonus will appear in your account and you get start trying out all that Giggle Bingo has to offer.
If you like what you see, then Giggle Bingo has another bonus for new members, a 200% first deposit bonus with a minimum deposit of only £20. That means that with the free £10 you get £50 for an initial deposit of only £20!
And About special promotions, register your lucky Bingo Ball, if you win bingo on that number you could win up to £50,000 in cash.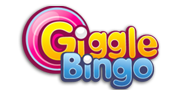 25% reload bonus.
£10 free money.
200% up to £100.
Big guaranteed jackpots to be won
Giggle Bingo Website
If you've played at Platinum Play Bingo, then you already know exactly how the Giggle Bingo website looks and feels, albeit in different colours. It's easy to use, and everything is right in front of you. A couple of pleasant features include the dancing bubbles which zip around the site and the wonderful use of colour, which really makes the site look engaging and attractive.
Giggle Bingo Rooms
Once you enter the lobby of Giggle Bingo, you can easily choose whether you want to play on the British or the Canadian site by clicking on the flag-shaped icons in the corner. No matter which site you use, there will still be one room offering games in the other currency. So keep an eye out for that if you want to keep all your wins in the same currency.
Five different rooms are on offer with ticket prices incredibly cheap compared to many of the other popular UK bingo sites. For as little as 1p you can play in nearly every Giggle Bingo game, so you can stretch that welcome bonus as far as it will go. As with other sites, there are also slot games and instant wins to pass the time between wins at the bingo tables and maybe even net you hundreds of thousands of quid in a single go.
Our Giggle Bingo review found that compared to other sites, there were loads of nice customizable features such as changing the pre-recorded chat sayings or altering the colours of the spots and cards. The pre-set chat features are brilliant, and provide a nice laugh during the game.
Wrapping Up
More so than many other British bingo sites, our Giggle Bingo review found that you really get your money's worth at Giggle Bingo. In addition to the generous sign-up bonus and first deposit bonus, it seems like they are constantly trying to find ways to give their players money. Throw in fun and friendly roomies and great chat and Giggle Bingo has a winning bingo site.