Costa Bingo Screenshot 1

Costa Bingo Screenshot 2

Costa Bingo Screenshot 3

Costa Bingos Screenshot 4

Costa Bingo Screenshot 5

Costa Bingo Screenshot 6
Costa Bingo is the place to go for those who want high-quality bingo and big wins without all the mental extras found on other bingo sites. Our Costa Bingo review reveals a site that has everything that a real bingo player wants, including a generous 200% first deposit bonus, while leaving all the extra stuff at home.
Playing Costa Bingo & Bonuses
Creating an account at Costa Bingo is incredibly simple; it only takes a matter of moments to enter all your information, choose a username and password, and activate your account. Once you have an account, you are taken to a screen where you can make your first deposit, and benefit from their amazing 200% on first deposit bonus offer. Not only do they offer this initial bonus, but every time you top up your account you will get a Costa Bingo bonus of 100% on deposits.
If you're not quite ready to make a real-money deposit, you are free to take a look around the site and play in one of their free bingo rooms. In final, all new players have access to the free VIP games with £2,250 in jackpots up for grabs every day! Costa also offer special weekly bonuses as well as a 75% birthday bonus, but if it's not your birthday for a while, don't worry as there is a 50% bonus for any further deposits you make too!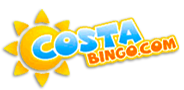 £10,000 Costa Crazy game that plays every Friday.
Free £5 no deposit bingo bonus.
200% welcome bonus on first deposit.
Free bingo rooms for newbies and depositors.
Costa Bingo Website
Compared to some other top bingo sites, Costa Bingo has a very simple website, with few extras to get in the way of actually playing bingo. Though the sun character, found at the top of the screen, is a nice touch as he will let you know what the most current bonus offers and special promotions are. Costa Bingo's site does rely quite heavily on flash animations, but during our Costa Bingo review we didn't experience any performance issues because of it.
Costa Bingo Rooms
It is when you enter the actual bingo rooms through the lobby that Costa Bingo really begins to show how good it is. With 12 rooms featuring both 90-ball and 75-ball bingo, there were always plenty of games going. And with tickets hovering around 10p, a little bit of cash goes a long way.
In addition to the regular games, there are loads of chat games at regular intervals. One of the biggest draws of Costa Bingo is the fact that there are free bingo games played every single hour of every day so that you can take home great prizes for free, no matter when you have the time to play.
Costa Bingo also features a variety of slots with very nicely sized progressive bonuses to entertain players between games. And speaking of jackpots, every evening Costa has a £1,000 jackpot game which is a great way to end the day.Veteran bingo players will also be happy to hear that the players on Costa Bingo are all quite friendly and welcoming so if you want to chat you will have more than enough opportunities.
Wrapping Up
There are no crazy themes or sparkling extras at Costa Bingo, only high quality bingo games and great chances to win one of their many jackpots or free bingo games. If you are a true bingo player, Costa Bingo is a site that you shouldn't miss out on.